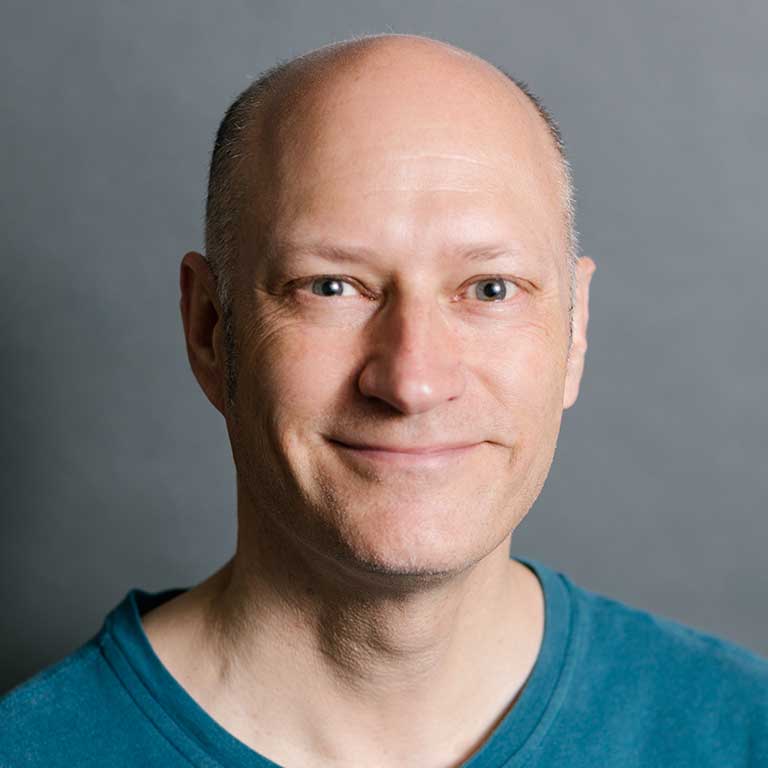 Robert Goldstone
Distinguished Professor and Chancellor's Professor, Psychological and Brain Sciences
Education
Ph.D., University of Michigan, Ann Arbor, 1991
Research interests
Most of my current research interests involve the representation and learning of concepts. I conduct psychological experiments on people's acquisition of visually presented concepts, interactions between developing concepts, the influence of concepts on perception, and concept specialization/differentiation. I develop computer simulations (often times, neural network models) to model concept formation and the two-way interaction between our conceptual and perceptual systems.
In other lines of research, I study judgment, decision making, and comparison processes involving similarity and analogy. I am also interested in educational applications of cognitive psychology.
Facilities
My laboratory consists of four rooms in the Psychology building. There are seven Macintosh computers for running human subjects, and additional computers for graduate student use. Our laboratory has been funded by National Institute of Health and National Science Foundation grants.
Professional Experience
Associate Editor for Psychonomic Bulletin & Review, 1998-1999
Gill Fellow in Cognitive Science, 1997-2002
Awards
James McKeen Cattell Sabbatical Award, 1997-1998
Chase Memorial Award from Carnegie Mellon University for Outstanding Young Researcher in Cognitive Science, 1996
APA Division of Experimental Psychology 1995 Young Investigator Award in Experimental Psychology: Learning, Memory, and Cognition
APA Division of Experimental Psychology 1995 Young Investigator Award in Experimental Psychology: General
Marquis Award for Most Outstanding Dissertation in Psychology, University of Michigan, 1991
Representative publications
Dissertation Committee Service
| Author | Dissertation Title | Committee |
| --- | --- | --- |
| Alexander, Will | A Real-Time Model of Attention (September 2006) | Sporns, O. (Chair), Goldstone, R., Kruschke, J., Yaeger, L. |
| Chalmers, David | Toward a Theory of Consciousness (May 1993) | Hofstadter, D. (Co-Chair), Dunn, J. (Co-Chair), van Gelder, T., Goldstone, R. |
| Desai, R. | Modeling Interaction of Syntax and Semantics in Language Acquisition (December 2002) | Gasser, M. (Co-Chair), Goldstone, R. (Co-Chair), Port, R., Smith, L. |
| Dimperio, Eric | A Dynamic Model of Planning Behaviors in Multi-Stage Risky Decision Tasks (August 2009) | Busemeyer, J., Goldstone, R., Kruschke, J., Scheutz, M. |
| Foundalis, Harry E. | Phaeaco: A Cognitive Architecture Inspired by Bongard's Problems (May 2006) | Hofstadter, D. (Chair), Gasser, M., Goldstone, R., Leake, D. |
| Frey, Seth | Complex Collective Dynamics in Human Higher-Level Reasoning. A Study Over Multiple Methods (August 2013) | Goldstone, R. (Chair), Todd, P., Beer, R., Busemeyer, J. |
| Gokcesu, Bahriye S. | Metaphor Processing and Polysemy (December 2007) | Goldstone, R. (Co-Chair), Gasser, M. (Co-Chair), Gershkoff-Stowe L., Jones, M. |
| Hanania, Rima | Selective Attention and Attention Shifting in Preschool Children (August 2009) | Smith, L. (Co-Chair), Gershkoff-Stowe, L. (Co-Chair), Goldstone, R., Jones, S. |
| Hockema, S. A. | Perception as Prediction (April 2004) | Gasser, M. (Co-Chair), Smith, L. (Co-Chair), Goldstone, R., Port, R., Hummel, J. |
| Honey, Christopher | Fluctuations & Flows in Large-Scale Brain Networks (April 2009) | Townsend, J,. Goldstone, R. (Co-Chair), Beggs, J., Sporns, O. (Co-Chair) |
| Kachergis, George Earle | Mechanisms for Cross-Situational Learning of Word-Referent Mappings: Empirical and Modeling Evidence (December 2012) | Shiffrin, R. (Co-Chair), Yu, C. (Co-Chair), Goldstone, R., Jones, M., Kruschke, J. |
| Loehrlein, Aaron | Priming Effects Associated with the Hierarchical Levels Of Classification Systems (March 2012) | Jacob, E. (Co-Chair), Goldstone, R. (Co-Chair), Ekbia, H., Ding, Y. |
| Mahabal, Abhijit | Seqsee: A Concept-Centered Architecture for Sequence Perception (March 2010) | Hofstadter, D. (Chair), Gasser, M., Goldstone, R., Leake, D. |
| Mason, Winter | Implicit Social Influence (August 2007) | Smith, E. (Co-Chair), Goldstone, R. (Co-Chair), Tormala, Z., Sporns, O. |
| McGraw, G. E. Jr. | Letter Spirit (Part One): Emergent High-Level Perception of Letters Using Fluid Concepts (September 1995) | Hofstadter, D. R. (Chair), Gasser, M. Goldstone, R., Port, R. F., Rawlins, G. J. E. |
| Nelson, Angela | Examining the Co-Evolution of Knowledge and Event Memory (August 2009) | Shiffrin, R. (Co-Chair), Goldstone, R. (Co-Chair), Busey, T., James, K. |
| Paik, Jae H | Fraction Concepts: A Complex System of Mappings (May 2005) | Mix, K. (Co-Chair), Gasser, M., Goldstone, R. (Co-Chair), Smith, L. |
| Place, Skyler | Non-Independent Mate Choice in Humans: Deciphering And Utilizing Information in a Social Environment (July 2010) | Todd, P. (Co-Chair), Goldstone, R. (Co-Chair), Smith, E., Wasserman, S., West, M. |
| Recchia, Gabriel | Investigating the Semantics of Abstract Concepts: Evidence From a Property Generation Game (December 2012) | Jones, M. (Chair), Goldstone, R., Kubler, S., Todd, P. |
| Rehling, J. A. | Letter Spirit (Part Two): Modeling Creativity in A Visual Domain (July 2001) | Hofstadter, D. R. (Chair), Gasser, M., Goldstone, R., Port, R. F. |
| Roberts, Michael | Human Collective Behavior: Complex systems properties of self-organizations, coordination, and emergent. (July 2008) | Goldstone, R. (Co-Chair), Ostrom, E. (Co-Chair), Smith, E., Todd, P. |
| Ross, Travis | Steering Social Behavior in Online Video Games: A Calibration and Test of The Rational Reconstruction of Norms in a Multiplayer Dungeon Crawl (November 2013) | Castronova, E. (Chair), Lang, A., Goldstone, R., Weaver, A. |
| Shayan, Shakila | Emergence of Roles in English Canonical Transitive Construction (June 2008) | Gasser, M. (Co-Chair), Gershkoff-Stowe, L. (Co-Chair), Leake, D., Goldstone, R., Smith, L. |
| Son, Ji Y. | Forces of Contextualization and Decontextualization: A Look at Symbols, Experience, and Language (August 2007) | Goldstone, R. (Co-Chair), Smith, L (Co-Chair), Gasser, M., Yu, C. |
| Stanton, Roger | Dissociations of Classification: Evidence against the Multiple Learning-Systems Hypothesis (August 2007) | Nosofsky, R. (Chair), Goldstone, R., James, T., Kruschke, J. |
| Tamara, Carolina | Route Learning And Its Interaction With Visual Landmarks (May 2013) | Timberlake, W. (chair), Crystal, J., Goldstone, R., Todd, P. |
| Theiner, G | From Extended Minds to Group Minds: Rethinking The Boundaries of the Mental | Goldstone, R. (Co-Chair), O'Connor, T. (Co-Chair) |
| Theiner, Georg | From Extened Minds to Group Minds: Rethinking The Boundaries Of The Mental (July 2008) | O'Connor, T. (Co-Chair), Goldstone, R. (Co-Chair), Schmitt, R., Weinberg, J. |
| Thomas, Wisdom | Incentives, Innovation, and Imitation: Social Learning in a Networked Group (August 2010) | Goldstone, R. (Co-Chair), Ostrom, E. (Co-Chair), Collins, K., Gold, J., Smith, E. |
| Vigo, Ronaldo | Mathematical Principles of Boolean Concept Learning (May 2008) | Allen, C. (Co-Chair), Kruschke, J. (Co-Chair), Goldstone, R., Nosofsky, R., Townsend, J. |
| Weidemann, Christophe | Identifying brief stimuli: Perceptual, preferential, and decisional aspects (August 2006) | Shiffrin, R. (Chair), Gold, J., Goldstone, R., Todd, P. |